To turn off the heart sensor, press and hold the top button for 5-7 seconds. Once a solid red light becomes visible you can release the button. The sensor will power itself off a few seconds later. When powered down, all lights on the sensor- both top and bottom - will be off.
Still having trouble?
Sometimes our families have trouble turning the heart sensor off because they are holding the button for too long. If you hold it longer than 5 to 7 seconds, it won't turn off.
Sometimes, the heart sensor gets turned back on while trying to turn it off, so make sure to keep pressure until a solid red light becomes visible.
If these steps don't work, you can "reset" the heart sensor's on/off switch by connecting it to the charger for 20 seconds:
Attach the heart sensor to the charging base
Connect the USB to a wall charger or your computer
A red flashing LED indicates that the unit is charging
Remove the charging base as shown below (image B) after 20 seconds. These steps will reset the processor in the heart sensor and restore normal functionality to the power on/off button.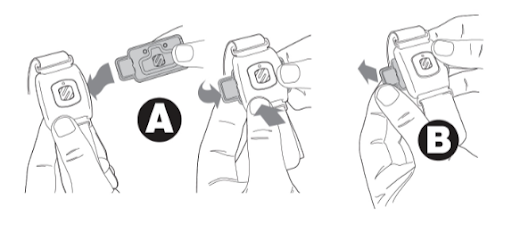 If you've gone through these steps and are still facing issues, reach out to the Family Care Team. Our experts would be happy to help.